Climate Research Department
EXPERT EVALUATIONS
---
Therapeutic properties of the climate
Institute of Geography and Spatial Organization Polish Academy of Sciences is a scientific institution with many years of experience in examining the bioclimate of health resorts.
In 2007, the Minister of Health granted IGSO PAS the right to issue the municipalities the certificates confirming the therapeutic properties of the climate based on the conducted research (Decision No. 2, MZ-OZU-521-10740 / GR / 07 of July 9, 2007).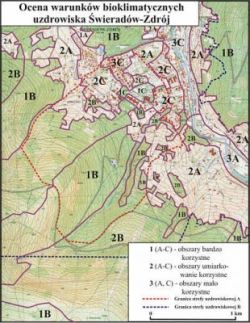 The climate elaborations which are the bases for the climatic certificates include:
complete characteristics of climatic conditions, including the assessment of legally binding climatic standards (concerning solar, thermal, humidity, wind, precipitation conditions) based on a long-term data from the nearest meteorological stations;
the characteristic of the impact of atmospheric stimuli on humans;
the assessment of the effectiveness of various forms of climatic treatment (heliotherapy, aerotherapy, kinesiotherapy, thalassotherapy) along with the definition of climatotherapeutic seasons;
the evaluation of local climate diversity with the delimitation of the areas of different suitability for conducting climatic treatment, based on a series of local climate measurements;
the assessment of air pollution on the basis of measurement data and modelled by the Chief Inspector of Environmental Protection, in terms of the applicable sanitary standards;
the assessment of electromagnetic fields on the basis of local measurements and actual law regulations;
the assessment of acoustic climate in terms of actual law regulations, based on continuous 24-hour measurements in different sites of the analysed area;
indication of the optimal, from the climatic point of view, treatment directions in the health resort;
the text parts and bioclimate evaluation maps.
84 climate elaborations for 62 localities were prepared in the years 2007-2022
| | |
| --- | --- |
| Year | Health resorts and potentially spa localities |
| 2007 | Augustów, Dąbki, Lądek-Zdrój, Swoszowice |
| 2008 | Konstancin, Busko-Zdrój, Solec-Zdrój, Ciechocinek, Kołobrzeg, Kamień Pomorski, Świnoujście, Polańczyk, Rymanów-Zdrój, Iwonicz-Zdrój, Wapienne, Jedlina-Zdrój, Polanica-Zdrój, Gołdap, Latoszyn, Krasnobród, Duszniki-Zdrój, Kudowa-Zdrój, Świeradów-Zdrój, Czerniawa-Zdrój, Szczawno-Zdrój, Długopole-Zdrój, Szczawnica, Goczałkowice-Zdrój, Uniejów |
| 2009 | Przerzeczyn-Zdrój, Lipa, Sokołowsko, Zgierz, Miłomłyn |
| 2010 | Skierniewice |
| 2011 | Wieliczka, Frombork |
| 2012 | Mielnik, Trzebnica |
| 2013 | Jaworze, Lidzbark Warmiński, Łagów, Czarny Dunajec |
| 2014 | Ciężkowice, Górowo Iławeckie |
| 2015 | Biszcza, Kazimierza Wielka, Krynica Morska |
| 2016 | - |
| 2017 | Rowy |
| 2018 | Cieplice, Horyniec-Zdrój, Konstancin, Solec-Zdrój, Kobyla-Góra, Polańczyk-Zdrój, Świnoujście, Kudowa-Zdrój, Iwonicz-Zdrój, Kołobrzeg, Polanica-Zdrój, Szczawno-Zdrój, Duszniki-Zdrój, Rymanów-Zdrój, Szczawnica, Wysowa-Zdrój, Krasnobród, Ciechocinek, Lądek-Zdrój, Supraśl, Jedlina-Zdrój, Dziwnówek, Wapienne |
| 2019 | Piwniczna-Zdrój, Świeradów-Zdrój, Czerniawa-Zdrój, Tuszyn, Dąbki, Pińczów |
| 2020 | Przerzeczyn-Zdrój |
| 2021 | Mrągowo, Miłomłyn, Czarniecka Góra |
| 2022 | Wieliczka |