Department of Geoecology
ON-LINE RESOURCES
---
Jan Marek Matuszkiewicz
Potential natural vegetation of Poland
IGSO PAS, Warsaw, 2008
Potential natural vegetation as the subject of cartographic presentation
The idea of potential natural vegetation has been present in geobotany since the 1950s and is understood as the hypothetical state that could be reached through natural succession of a vegetation if human impacts were eliminated and the vegetation appropriate for a given region were able to make full use of the opportunities afforded by the given habitat.
Potential natural vegetation is described in terms of typological units of natural plant communities which may occur in a defined region. In this the typological units used most frequently in the creation of cartographic units are "plant associations". The Latin names of communities used to determine the units of the legend are the final stages of the developmental series of plant communities known from research in the given region to be possible to achieve in the given habitat through primary succession, or more often secondary succession.
Basic data
The presented map of potential natural vegetation derived from the map at scale 1:300 000, printed in 12 sheets.
Quotation original paper map: Matuszkiewicz W., Faliński J.B., Kostrowicki A.S., Matuszkiewicz J.M., Olaczek R., Wojterski T., 1995, Potential natural vegetation of Poland. General map 1:300 000, IGiPZ PAN, Warszawa.
Download
---
General chart of potential natural vegetation map sheets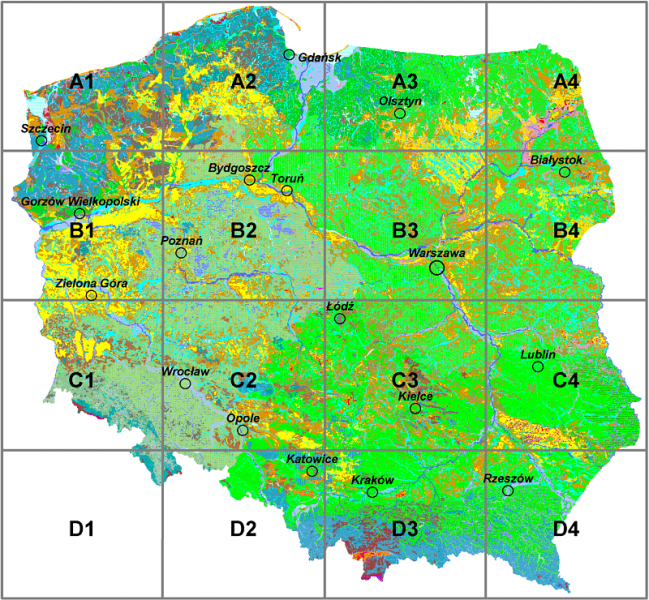 Natural potential vegetation map of Poland - example sheet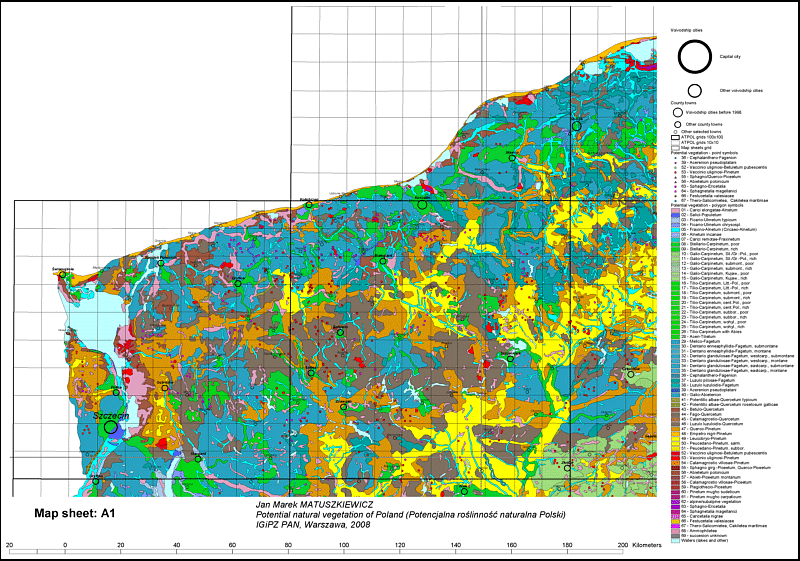 Legend of general natural potential vegetation map of Poland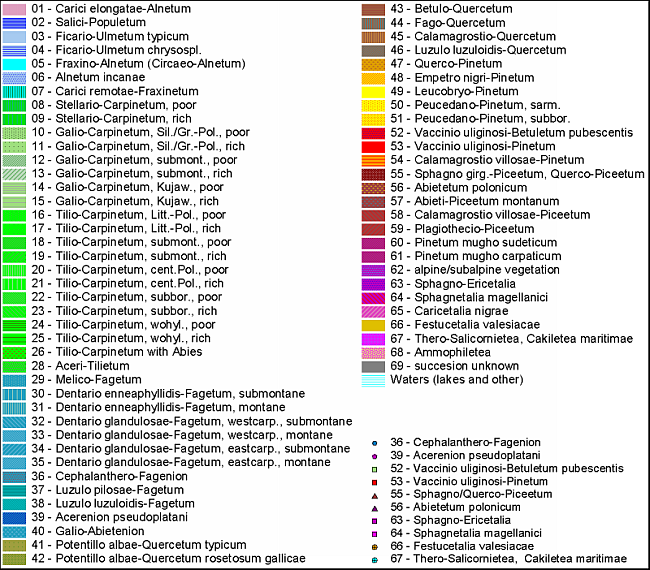 Spatial characteristics of general natural potential vegetation map of Poland legend units
---
The map is protected by copyright of Jan Marek Matuszkiewicz. The reproduction and distribution of the map as a whole or in parts is only possible with the author's written consent. Without this permission, it is only allowed to copy single sheets of the map for scientific or educational purposes with the right quotation.
---
Webmaster: Jacek Wolski
Last update: 26.06.2012