UTCI - assessment measure in human bioclimatology - 10 years of application and 1st European Biometeorologist Regional Meeting
Conference Venue
The Conference and the Meeting will be held from 22-24 May 2019 in Warsaw, Poland at the Institute of Meteorology and Water Management – National Research Institute (IMGW-PIB).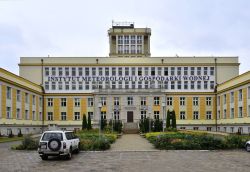 IMGW-PIB is located in the north-west part of Warsaw, 7 km from the city centre and 12 km from Warsaw Chopin Airport. Detailed information on how to reach the IMGW-PIB is provided below.
Institute of Meteorology and Water Management-National Research Institute (IMGW-PIB)
61 Podleśna street
01-673 Warsaw
Poland http://www.imgw.pl/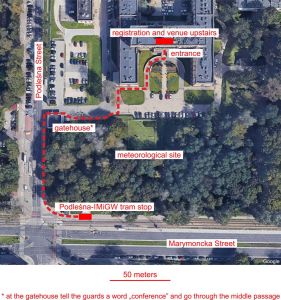 Arriving at the Conference Venue by public transport
If this is your first time in Warsaw and do not know how to get by public transport to the conference venue, the best way is to use the trip planning tool.
Public transport in Warsaw is managed and supervised by the Public Transport Authority (ZTM, Zarząd Transportu Miejskiego).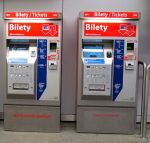 All public transportation tickets can be purchased at ZTM points and in some newspaper kiosks.
Many ticket machines are located at the bus (tram) stops as well as on board of the buses (trams).
Tickets can be purchased with either cash or debit cards. It is also possible to purchased tickets using a mobile phone. Tickets cannot be purchased from the bus (tram) driver.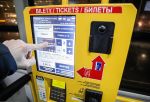 Single fare transfer ticket entitles to an unlimited number of journeys by bus, tram and subway for a period not exceeding 75 minutes since its validation. Standard price for single fare transfer ticket is 4,40 PLN (approximately 1 EUR and 1,2 USD).
It may be favourable to purchase 20-minute ticket (3,40 PLN), 24-hours ticket (15 PLN) or 3-day ticket (36 PLN).
Luggage can be taken on public transport free of charge.
People over 70 (based on a photo-document containing the date of birth) are entitled to free travel.
Detailed information about
If you arrive to Warsaw by plane (Warsaw Chopin Airport)
The best way to get to the conference venue is by bus line 175 and then by tram line 17.
Bus line 175, direction → Plac Piłsudskiego
Running daily between 04:58 - 22:58
You need to get off at Central Railway Station (Dworzec Centralny stop). Trip duration from the airport to the Central Railway Station is ca. 25 minutes.
After getting off you need to go to the stop of tram line 17. You should use the underground pass to reach the stop. During transfer follow the tram icons (direction Żoliborz). Subsequently you need to switch to tram line 17 which departs every few minutes.
Tram line 17, direction → Tarchomin Kościelny
Running daily between 04:31 - 23:52
You need to get off at Podleśna-IMGW stop. Trip duration from the Central Railway Station to the stop is about 20 minutes.
If you arrive to Warsaw by train (Warszawa Centralna railway station)
Get on tram line 17 (Tarchomin Kościelny direction) and get off at the Podleśna-IMGW stop. It takes ca. 20 minutes to get to the IMGW-PIB. The venue is located in the front of the tram stop.
Taxi
From Chopin Airport and Central Railway Station you can also get to the venue with a taxi which you would find most convenient and relatively inexpensive. For safety reasons we strongly advise to use the licensed taxi services. We recommend the following taxi companies:
Approximate prices:
Airport to venue: 80 PLN (ca. 18 EUR, 22 USD)
Central Railway Station to venue: 40 PLN (ca. 9 EUR, 11 USD)
Accommodation
We recommend four hotels in Warsaw
There are much more hotels or appartments available in all categories and prices in Warsaw. You can easy find something via services like booking.com.
Discover Warsaw

Staying 1, 2 or 3 days in Warsaw? Sightseeing routes, vantage points, Warsaw legends, what to eat, shopping and much more. Have a look at the Official Tourist Website of Warsaw and the website of Warsaw Tourism Organization.